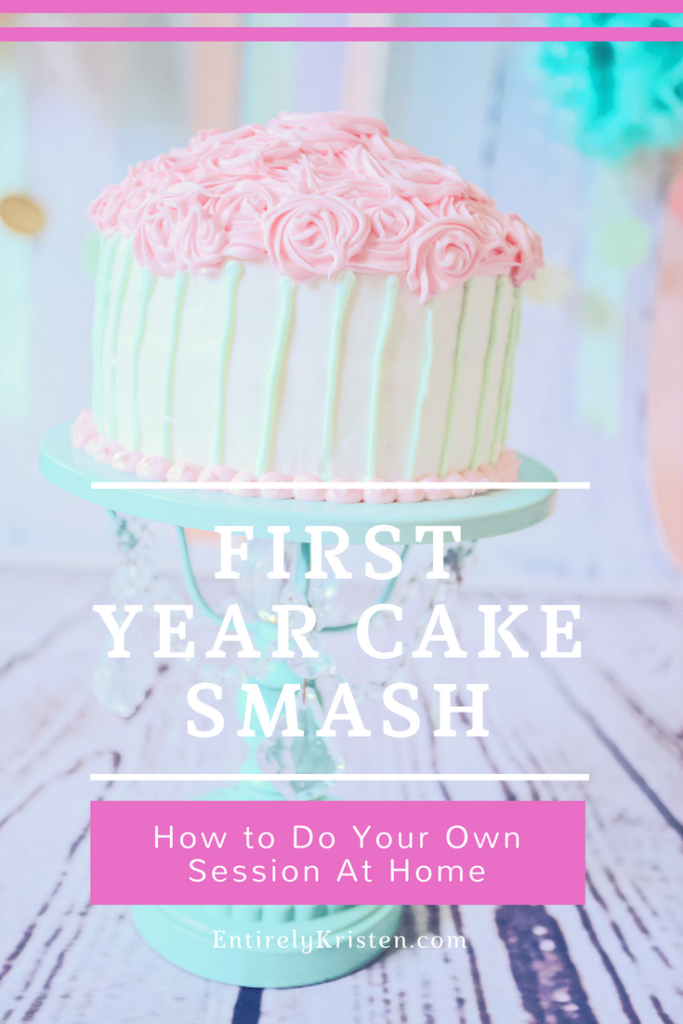 Hello Everyone!
Today I wanted to share how I did my own cake smash session with my daughter when she turned one.
I know that photographers can be expensive and not everyone has the ability to have a session like this.  While at the same time you want to capture all the little moments and memories that come with parenthood.
As many of you know I also am a photographer, one of the many "hats" I wear.  So I always have a camera in hand (especially now that we do Weekly Vlogging).  But here is what I did. (P.s. some links in this post are affiliate links).
DIY Cake Smash Photo Session
There are a few things you will need when planning your home cake smash session.
Pick a Theme:
This is something that is often time overlooked.  When planning a cake smash photo session I would start with choosing a theme.  You want the overall look to be centered around a general idea.  It can be something as simple as your kids favorite toy or as general as Shabby Chic.  Just decide on an over-arching theme that you want.
Also keep in mind where you want these photos displayed.  If you choose Shabby Chic as your theme and your home is decorated with a Modern twist the photos may look out of place.
Cake:
You will need a cake – This is an obvious one otherwise there is nothing to smash.  I did a giant cupcake cake for my DIY cake smash photo session.  I made it myself thanks to YouTube Videos. Here is a Video of how I made the cake smash session cake.
(If I'm being honest – I'm happier with the cake I made for my daughter's First birthday cake smash session than I am with the cake I had at my wedding.)
Backdrop:
When I say backdrop I don't necessarily mean photo studio quality backdrop.  I just mean you need a place to photograph the session.
Some things to keep in mind when choosing a photo location.  You will want a clear background.  Whether its a wall or the middle of a field on a picnic blanket.  The less cluttered the background is the better.
I have a backdrop, and there are a lot of ones available on Amazon here at a variety of prices.  With that said, I could've easily just used one of the walls in my house if I wanted.
Decorations:
This is something that kind of makes the cake smash session (aside from your little baby).  You want decorations, you just don't want to be swimming in them.  I set up some bunting and streamers across the backdrop.  To give it some depth I also had some pom poms scattered throughout.
My all time favorite piece was the cake stand I had!  I actually found it at Marshall's one day, but there is a similar one here.
Baby's Outfit:
This is something you will want to go along with the theme. Etsy is my go-to place for items like this.
I had a custom Tutu and onesie made for baby girl from this etsy shop.  I'm a bow fan, so I also had a bow made from this shop.  Bows just pull together an outfit, especially when you have a bald little girl like I did.
Camera:
You can use any camera you have, even phone cameras are getting to be quite good.  I love the look of DSLR's so I personally have a Cannon 5D Mark II that I've had for years.  Realistically I know not everyone can afford one of these.  I'm a photo person so having a really good camera is always important to me.  That's why I invested in one.  Plus at the time I had a photography company and I needed a really nice camera for it!
There are a ton of nice cameras out there though.  Like I said even the camera on your phone would work!
Let Your Baby Have Cake Before the DIY Cake Smash Session:
I would highly recommend letting your baby have cake prior to the session.  This way they know what it is.  Often times this will lead to them being even more excited once they see the cake.  Which makes for GREAT photos.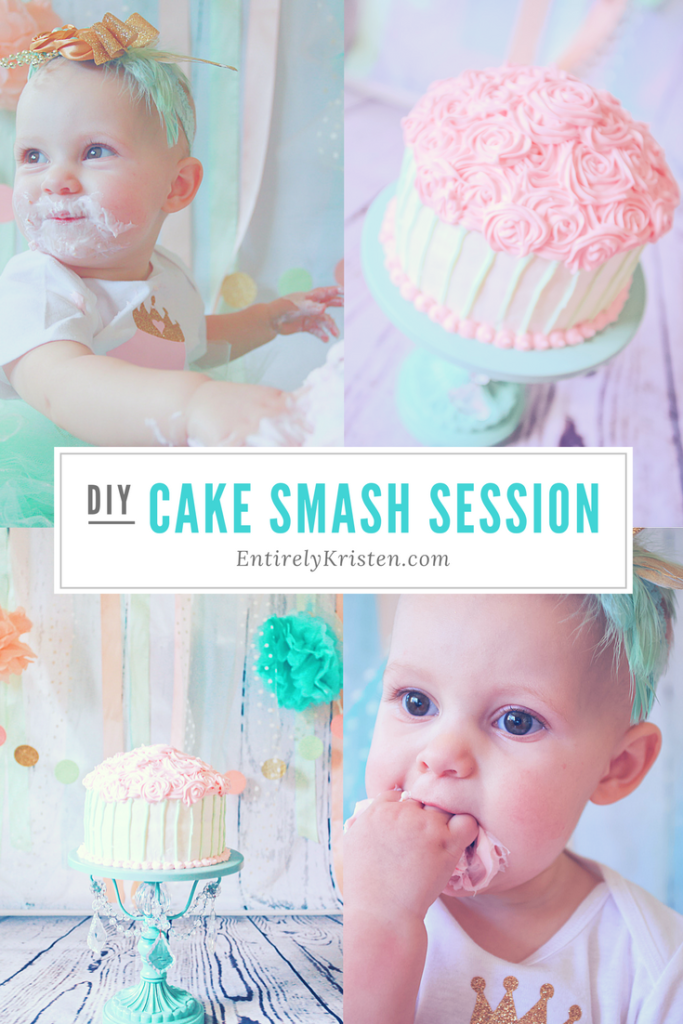 Now for the DIY Cake Smash Session
So once you have all the planning done you will need to actually set it all up.
Timing is Everything:
Make sure your baby is well rested. Nothing is worse than a crabby baby who wants to sleep and eat cake at the same time.
Also think about the lighting of the area you will be photographing.  Is it natural light? When I did my session I used natural light. Choosing a time when you know light will be shining into the room the set up is in is important.  Especially if you're planning on only using natural light.  There is also the caveat of not wanting the light to be shining directly onto your set up (it will wash out the photos).
If the room is too dark you may need to add some lamps. I would recommend white light so it doesn't add a yellow tint to your photos. If you really want to get fancy you can get a lighting kit.
Clean:
Make sure the area is clean.  Cake will be smashed everywhere and your kid may very well end up grabbing it up off the floor.  So make sure it's clean!
Set up:
Once you've cleaned, set up the backdrop (If you have one) and decorations.   Bring out the cake you have for the cake smash session itself.  Then – before you bring your kid out – take some test shots.  See if you like how it looks and adjust the decorations as needed.
I would recommend setting up a video camera somewhere and just videoing the entire thing.  It makes for a cute little video.
Bring out the Baby:
Once you've done a few test shots and you know you like the look of the set up, bring out your baby.  Keep in mind that some kids need some help getting into the cake.  On the off chance that your's is just ready to go make sure you are all ready to take photos!
I would recommend having more than just you there.  That way you can be ready to start snapping photos and the other person can just set your baby down. A lot of babies wander out of range of the decorations at some point. Having another person there can help.
But if it's just you – it's totally doable – I would just go snap happy!
Remember to have fun
Things WILL get messy.  That's part of the fun of a cake smash session.  To have cake smashed everywhere by cute tiny little hands.  A bath will basically be a necessity afterwards followed by some deep cleaning of anything that had cake on it.  But it will totally be worth it!
Here are some photos from our session: