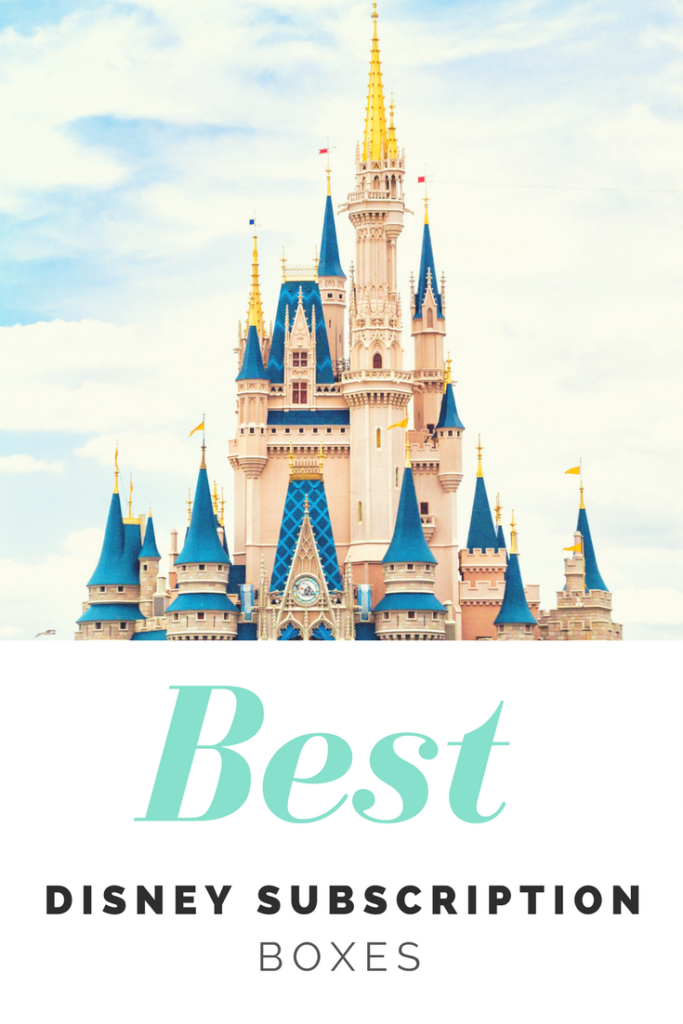 Hello Everyone!
As many of you know we are planning a trip to Disney and the closer it gets the more I want everything Disney (it may or may not be becoming a problem).
So once I discovered that Disney Subscription boxes existed I of course was super excited and pretty much wanted them all.  They seem to be getting me even more amped up for our upcoming Disney Vacation.
I've signed up for quite a few different boxes at this point.  Some I decided to keep and some I decided to cancel.  I thought I would let you know what I thought of them! Here I have my great big list of Disney Subscription boxes and why I like them (or didn't). Also at the end I'll include the boxes I'm hoping to get in the future and why!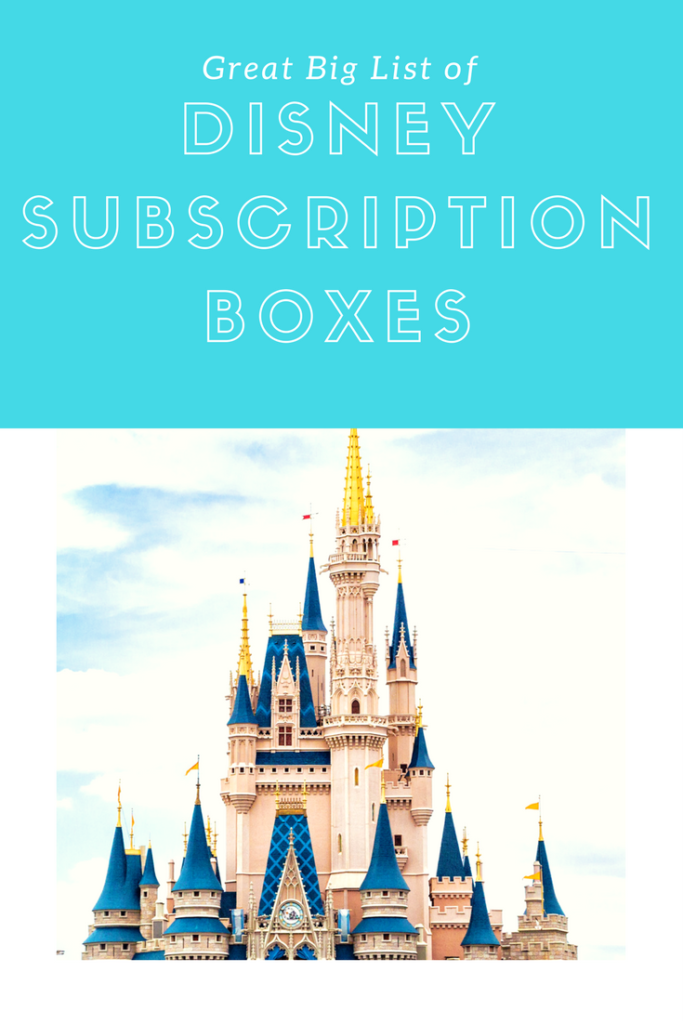 My Great Big List of Disney Subscription Boxes
I'm starting with my least favorite and working my way up to my all time favorite!
Disney Dreamers Box:
I had this box for 3 months and then I ended up canceling this subscription.  How this box works is each month has a different theme and you can skip themes you don't like.  There were different box sizes you could get (I got the Ultimate Dreamers Box each month).  I was initially drawn to this box for the Frozen theme (I'm a HUGE Frozen fan) and I absolutely loved the frozen box that I received, the value was really great and the items were adorable.   The next month the theme was Cinderella.  I was super excited about the Jim Shore Disney Figurines that were in this box but there was a very eclectic pop art piece that I wasn't in love with (I didn't hate it – but I just didn't love it).
The last month I received the theme was Star Wars – I like star wars but if I'm being honest I thought I had opted to skip the month (I just prefer more of the Fairy Tail Disney at the moment). However After looking at everything I realized that I was a bit behind.  I think my problem was that when you ordered the box at the beginning of the month – you wouldn't receive it until later the next month.  So while I thought I had skipped the star wars month – I had actually skipped the month following star wars.  The items in the star wars box were nice but there are some pieces that I honestly just don't know what I would do with (there's a set of coasters that I'll be saving for a "movie room" some day).
You can sign up for this Box Here.
Did I keep the Box? No I cancelled this subscription
Pros: I like that you can skip months you don't like (If you do it in time) and I love that there is a specific theme to each month.  Some of the items I received are absolutely amazing (I LOVE all the Jim Shore Pieces I have now from these boxes).
Cons: You pay for the box at the beginning of the month – but don't receive it until the beginning of next month.   So you get Septembers box in October, October's box in November and so on and so forth.  Also, you have to pay attention to the next months theme to make sure it's announced  in time for you to remember to decide to skip the month if you wish to.  Also some of the items are eclectic, at least in my opinion, and not necessarily something that I think 'everyone' would love.
Disney Treasures By Funko:
If I'm being honest this box is almost tied with Mickey Monthly in my opinion but obviously something needed to chronologically be next so I choose Disney Treasures.  Mostly because I don't necessarily think that this is a box everyone would always love.  I say that because you kind of have to like the look of the Funko Pop pieces.  Personally – I love them – so I'm very happy with this box, but I do see how not everyone would feel the same.
This box is an every other month box which means there are 6 boxes for a full year.
This box is really cool because the Funko pieces that come with the box are exclusive to the box – which means in order to get that piece you HAVE to get the box.  My daughter loves them and I do too (I'm really just a big kid at heart).
The box itself comes with a treasure map (I jumped in at the end of the map) a pin, and a patch for each box.  If you would've had every box the patches create a circle and all fit together which is kind of cool. I'm guessing that once this map is finished a new one will come into existence – we will have to wait and see.
I was so happy with every item I had in the box and I loved the Disney Pins.  I was also happy with some of the exclusivity of the items,  I had received a thermos that the box itself designed – which I am assuming means it isn't an item that is readily available in a store to purchase (I could be wrong).
Did I keep the Box? Yes!!
Pros: I love how items are specifically made for the box!
Cons: A main part of the box is the actual Funko Piece (duh – it's in the name) – so if you don't like those items you most likely won't like the box.
Mickey Monthly:
I Love Mickey Monthly.
The box I get is the Mickey Sized box and I choose to have a mix of souvenirs and snacks.  I wasn't sure if I would like the snack thing or not…because once you eat a snack it's gone…. but then I got the first box and had my first snack (or I should say my daughter had the snack and I had a piece of it).  Now I'm excited for more mickey snacks.  Plus those snacks come from the parks which I think is SOO fun (and just makes them taste better)!
My first box I had 3 items in, which ,if I'm being honest, when I opened it I expected a little more than 3 things.  The items I did receive were very nice items once I looked at the prices so it made much more sense.  I'd rather have a few nice items than a bunch of little ones that are only so/so and not necessarily practical.  The items I received were very practical items.  My favorite item was a rolling pin – It wasn't anything that even crossed my mind as a potential item but I was just so thrilled with it.  It's something practical and useful that I know I will use.  I've also received a calendar that I know will get use all year long!
Did I Keep the Box:  Yes!!
Pros: I love that the items I've received so far are very practical items. Something that I would actually use/need on a weekly or daily basis.
Cons:  Depending on your box size don't expect a bunch of stuff (obviously).  Which is both a good and bad thing depending on how you look at it.  Like I said I'd rather have a few nice things than a bunch of "meh" ones.
You can sign up for this box here.
You can watch my unboxing (and see the items) here!
My All Time Favorite Disney Subscription Box:
Magic At Your Door:
I have nothing but good things to say about this box! It is hands down my all time favorite of the Disney Boxes I've received!
First off this is a box that is curated for YOU! Which is just kind of amazing!
When you sign up for this box you will receive an e-mail with a bunch of questions asking you about what you like and don't like.  Who the box is for (it can be multiple people).  The types of items you like and don't like.  Then the box is curated with those answers in mind.  Which means that no two boxes are the same!!
The curator of the box also posts to Facebook and Instagram with items that are available for a box.  You can comment on them if you want them.  They will be like 'we have 5 available' and you can comment and then the curator will let you know if you are one of the lucky ones who get it (I recently was able to snag a very adorable pair of Mickey Ears).
That alone adds a whole other level of excitement to the box! Plus I love that the curator does this – because then you know people who really truly want an item are receiving it.
Also I was so happy with the amount of items and the value of those items that I received in my box! Plus I love that I can share this box with my daughter.  She had such a fun time opening up the box with me!
Did I keep the Box : Absolutely Yes!!!!
Pros: Everything, lol, but seriously.  I love that its curated specifically for you!
Cons: I honestly don't have any cons.  The only thing I can think of as a con is that you may love with an item that is posted and your just one person shy of getting that item.   But that's not really even a con – I just felt like I needed to put something here so it wasn't blank.
You can sign up for this box here.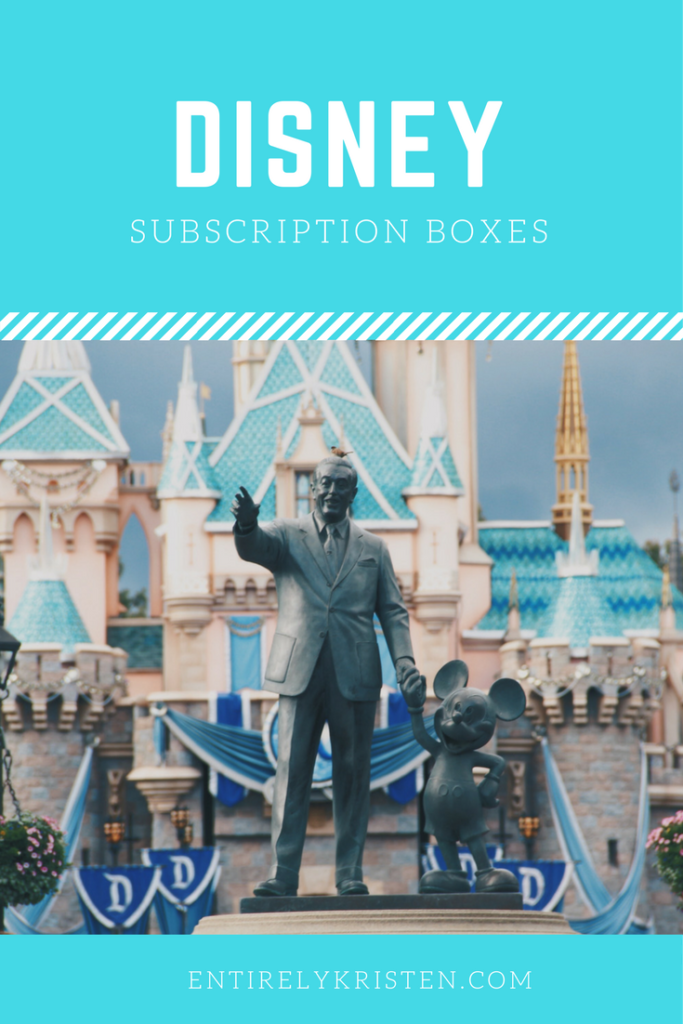 Boxes I'm interested in Trying in the Future
So these are boxes that are on my list to try but I haven't yet.  I typically stalk YouTube Videos when deciding to get a box or not.
The Park Package (By Libby Tees):  I haven't seen a box from them in a few months otherwise I probably would've already tried this box.
Gifts From Mickey
Those are the ones I am still interested in getting in the future.  However at the moment I am so happy with ones that I do have!
Do you have a favorite Disney box that Isn't on the list? Let me know in a comment!
Watch My Magic at Your Door Unboxing:

Watch Our Latest Weekly Vlog:
*This post contains affiliate links*